(Disclaimer: As a member of the US Family Guide, I received this product complimentary for product testing purposes. However, all opinions stated are my own.)
Goodbye Dull Parties – Hello Colorful Spunk:
Just Add Color Mega Party Pak Review –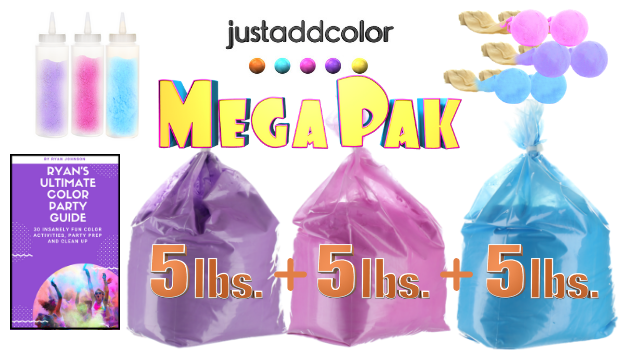 Aren't you guys getting super tired of planning parties for your little ones that kind of feel repetitive?
I mean, you go through the whole picking a theme for the party, checking out awesome cakes, packing party bags, but do you even have entertainment for the little ones?
I'm not talking about the dressed up characters who only stay for like an hour or two, or the pinata, or the clowns who create balloon animals and hand out cotton candy.
I'm talking about some real hands on entertainment for the kids.
Well… it's okay if you never had any hands on entertainment for the kids because that's where the Just Add Color Party Pack comes in.
What is in the box?
The Just Add Color Party Pack is a pretty cool set of colorful powder, this party pack includes:
One 5lb Pink Powder
One 5lb Blue Powder
One 5lb Purple Powder
Three Powder Paint Brushes (for creating beautiful master pieces… on other people)
One Pack of stocking Caps (for tossing the powder around outside and having the ultimate powder fight!)
One Booklet (Ryan's Color Cookbook)
10 Golden Ticket Invitations for the color party (invite people in style)
I know it seems like a lot, but it is supposed to be a lot so that you can throw the best colorful party ever!
---
Important Information
Here in New York, it's pretty cold right now. Therefore, I could not take The Mini Melanin Gawddess outside to play with the colors.
However, it is okay to play with the product inside of the house. This product is super messy, yet, super easy to clean. All you need is water and it washes clean off.
(Make sure you still use soap, though.)
When playing with this product be sure to throw on some of your old clothes.
Why?
To avoid messing up your good clothes. Like I stated before, this product is super messy!
Ryan's Color Cookbook:
Within this guide, the creator/ founder, Ryan Johnson explains a variety of different ways that you can turn your dull party into a fun filled party.
This booklet includes some pretty cool color games, assists you with how to properly clean up the mess, and gives you tips on how to host your colorful party.
You can not throw a good party without checking out this booklet first!
---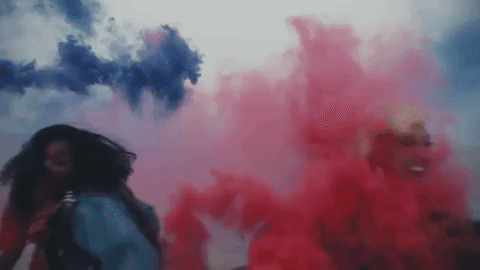 ---
You can order yourself one to give your next party some spunk! 
---
Overall:
While experimenting with this product, I actually had fun. I really wish that the weather was nice so that we could go outside and beautify the world with all of these pretty colors. Honey, once summer comes….it's party time! Color party time!
---
Thanks for reading!
Before you go, let's connect!
Instagram, Facebook, Twitter, and most importantly subscribe!